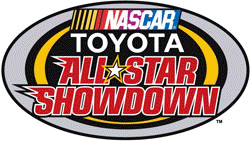 Eddie 5th at the Toyota All-Star Showdown!
1) Joey Logano 2) Peyton Sellers 3) Mike Duncan
4) Matt Kobyluck 5) Eddie MacDonald
Great run and in a long, tough race. In the top seven all night long.
Eddie's fifth place finish in the Toyota All-Star Showdown capped off a successful season even though the MacDonald Motorsports team ran only eight of the thirteen regular races on the schedule. Eddie posted one win, three top fives, and five top tens while having just one DNF. With this success in hand, Eddie, Rollie, and the team were confident a solid run was in the cards in Irwindale, California. They were right. With winning the BES race at Stafford Motor Speedway in his first race of the season, Eddie was guaranteed a spot in the Showdown but the team was determined that it was not a fluke that got them there.

Eddie qualified tenth with a speed of 96.785mph on the fast, high-banked oval with Eddie saying afterward, "We could have done better in qualifying but tenth was a good starting point. With the race going 250 laps, we knew we would be there at the end. Rollie sets the car up so perfectly, I just had to stay out of trouble so we could make adjustments at the 100 lap and 200 lap breaks."

For the first 100 laps, Eddie made his way to seventh running comfortably with the lead pack. The crew made minor adjustments on the Grimm Construction/NEMO Chevy during the first segment break. For the next 100 laps, Eddie moved into the fifth position in the lead pack and trying to save the car for the final 50 laps. "The car was running great and we were definitely where we wanted to be. Running up front is key to getting a good finish here. We were really confident that we had a chance for the win, or a least a top three finish," said Eddie after the race.

After Rollie and the crew made the final adjustments on the car during the second segment break, Eddie returned to the track in fifth place and headed to the front. A number of late race cautions slowed his momentum but the Rowley, Mass driver mounted one of his patented charges on the outside and moved into third with only a few laps remaining. However, on a restart with two laps remaining, Eddie had the door shut on him by the second place car.

"We really had a fast car at that point and I knew I had something for the leaders but when the car in front of me slowed I had to lift or I would have wrecked. We lost two positions because of that. Of course I wanted a better finish but those things happen in racing. We are satisfied with the fifth place finish, although it could have been better," said Eddie afterwards.

"I am so proud of this team and for everything our sponsors and supporters have done this season. It was difficult not running the entire season but this finish really makes us fell good and confident of our chance next season. We hope to run the complete schedule next year and we are currently preparing cars and motors. We will be working hard this off-season in order to be even better next year."
Joey Logano Finishes Championship Rookie Year
With Showdown Victory
Source: NASCAR Public Relations
Irwindale, Calif. – Joey Logano capped off his rookie season in the NASCAR Grand National Division the same way he started it: In Victory Lane.
Logano, the 17-year-old Joe Gibbs Racing development driver, picked up his biggest victory Saturday night winning the NASCAR Toyota All-Star Showdown at Irwindale (Calif.) Speedway.
He held off fellow Busch East driver Peyton Sellers, who turned 24 Saturday, following a green-white-checkered finish to the 250-lap event that has been dubbed the 'Daytona 500 of short-track racing.'
"I just had a great race tonight," Logano said. "My crew, they picked it up a ton. To be able to run up front all night, this team is unbelievable. ... I just have a lot of confidence. That's what you have to have to win. We came here knowing we can win and that's what we did."
Two-time West Series champion Mike Duncan finished third in a frantic finish, edging defending race winner Matt Kobyluck at the start-finish line. Eddie McDonald followed closely in fifth.
Brian Ickler over overcame a mid-race mechanical problem that put him a lap down prior to the 200-lap break to drive his way back up to sixth. Eric Holmes, Mike Olsen, John Salemi, and David Mayhew rounded out the top 10.
Logano won six times during the Grand National regular season – including his first career start in the West Series at Phoenix International Raceway in April. He became the first rookie to win a NASCAR Busch East title and set the record as series' youngest champion.
Finish
Start
Car #
Driver
Hometown
Car
Laps
Money Won
Reason Out
1
2
20
Joey Logano
Middletown, Conn.
Joe Gibbs Driven Chevrolet
250
$33,284
2
9
83
Peyton Sellers
Danville, Va.
Strutmasters.com Chevrolet
250
$22,684
3
3
9
Mike Duncan
Bakersfield, Calif.
Lucas Oil Chevrolet
250
$17,000
4
6
40
Matt Kobyluck
Uncasville, Conn.
Mohegan Sun Chevrolet
250
$16,184
5
10
48
Eddie MacDonald
Rowley, Mass.
N.E.M.O./Grimm Construction Chevrolet
250
$13,530
6
5
16
Brian Ickler
San Diego, Calif.
NAPA Auto Parts Chevrolet
250
$12,000
7
25
62
Eric Holmes
Escalon, Calif.
Paul Oil Co. Chevrolet
250
$8,000
8
28
61
Mike Olsen
N. Haverhill, N.H.
Fadden Racing Chevrolet
250
$12,434
9
33
63
John Salemi
Nashua, N.H.
Express Sign & Graphics Chevrolet
250
$14,684
10
13
21
David Mayhew
Atascadero, Calif.
Golden Gate Petroleum Chevrolet
250
$9,250
11
21
50
Eric Richardson
Bakersfield, Calif.
Green Frog Roasting Co. Toyota
250
$10,000
12
19
22
Jason Bowles
Ontario, Calif.
Sunrise Ford Ford
250
$9,500
13
16
03
Rogelio Lopez
Aquascaliantes, Mexico
Telmex/Lucas Oil Chevrolet
250
$10,684
14
15
2
Mike David
Modesto, Calif.
Bennett Lane Winery Ford
250
$8,500
15
11
8
Johnny Borneman
Ramona, Calif.
Twistex X Boots Ford
250
$8,000
16
31
1
Jim Inglebright
Fairfield, Calif.
Jelly Belly Chevrolet
250
$8,300
17
20
71
Daryl Harr
St. Albert, AB
Westworld Computers Chevrolet
250
$7,700
18
29
52
Jamie Hayes
Norlina, N.C.
National Guard Chevrolet
250
$9,284
19
18
93
Ben Walker
Santa Clarita, Calif.
CMJ Racing Ford
249
$4,550
20
30
88
Alex Haase
Las Vegas, Nev.
Motorway Auto Group Chevrolet
248
$7,500
21
36
77
Greg Pursley
Newhall, Calif.
Jan's Towing Ford
248
$5,400
22
27
5
Eric Hardin
Anaheim, Calif.
Alta Dena Dairy Chevrolet
247
$7,300
23
24
4
Andrew Myers
Newport Beach, Calif.
Toyota of Escondido Chevrolet
243
$5,250
Accident
24
8
81
Brett Thompson
Jerome, Idaho
Pets Best/Rich Thompson Trucking Chevrolet
243
$7,200
Accident
25
7
65
Ryan Foster
Anderson, Calif.
A&S Metals Chevrolet
242
$7,150
26
38
6
Woody Pitkat
Manchester, Conn.
The Davidson Company Chevrolet
236
$6,254
27
4
18
Marc Davis
Mitchelville, Md.
Joe Gibbs Driven Chevrolet
231
$8,784
28
22
66
Justin Lofton
Westmorland, Calif.
Lofton Cattle Ford
214
$7,100
29
35
96
Mike Johnson
Salisbury, Mass.
Johnson Lumber Ford
212
$8,630
Rear End
30
39
28
Chris Bristol
Columbus, Ohio
Aqua Health/Sears Mexico Chevrolet
208
$9,784
31
40
12
Antonio Perez
Mexico City, Mexico
Raintree Vacation/Telcel Dodge
189
$9,734
32
12
29
Nick Lynch
Burley, Idaho
Rockstar Energy Drink Dodge
176
$4,000
Accident
33
34
78
Moses Smith
Tempe, Ariz.
Hasa Pool Supplies Chevrolet
155
$7,000
Accident
34
23
54
Tim Woods III
Chino Hills, Calif.
Chino Hills Ford Ford
139
$4,000
Engine
35
37
25
Ryan Philpott
Tracy, Calif.
Pacific Motorsports Ford
129
$5,000
Suspension
36
1
44
Sean Caisse
Pelham, N.H.
Casella Waste Systems Chevrolet
74
$11,684
Accident
37
17
46
Jeff Barkshire
Auburn, Wash.
Centennial Batteries Dodge
60
$4,000
Suspension
38
14
3
Stephen Berry
Huddleston, Va.
Liberty University Chevrolet
45
$7,530
Accident
39
26
09
Andrew Ranger
Roxton Pond, Quebec
Tide/Wal-Mart Chevrolet
31
$7,530
Accident
40
32
37
Michelle Theriault
Bristol, Conn.
Glock Chevrolet
28
$8,684
Accident
Did Not Qualify
13
Todd Souza
Aromas, Calif.
Central Coast Manufacturing Chevrolet
01
Candace Muzny
Oklahoma City, Okla.
Bid4Prizes/Fox Ford
42
Rick Wall
Irvine, Calif.
Xiser.com Ford
57
David Ross
Colton, Calif.
E.R. Block Plumbing Chevrolet
90
Darrell Midgley
Victoria, BC
Midgley Racing Chevrolet
85
Thomas Martin
Auburn, Calif.
Strictly Toy-ondas Chevrolet
84
Jamie Dick
Albuquerque, N.M.
Motorway Auto Group of El Paso Chevrolet
04
Ryan Black
Alto Loma, Calif.
Thompson Plumbing Supply Ford
95
Jason Noll
El Mirage, Ariz.
LaFrance Motorsports Chevrolet
26
Scott Bouley
Thomaston, Conn.
Spyville.com Chevrolet
14
Jason Gilbert
Dublin, Calif.
Gilbert Motorsports Chevrolet